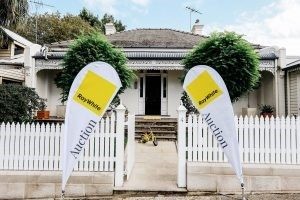 As with recent reports, it has been very pleasing to see that the positive and encouraging real estate activity has continued, giving vendors an opportunity to sell with active bidding interest, as well as buyers an opportunity to purchase quality real estate assets within our Eastern Beaches area.
4 November 2019 attracted a larger auction portfolio of properties – 14, plus 2 which were sold prior, 'under the hammer' as detailed in previous reports, due to the auction dates being brought forward. There was a very favourable 'under the hammer' and immediate post auction clearance.
The properties in this portfolio came from Half Moon Bay, Bucklands Beach, Mellons Bay, Howick, Cockle Bay, Golflands, Dannemora, Flat Bush and Papatoetoe. Due to the annual Art Show week we moved to the upper level Percy Jones room, incorporating staged starting times to ease congestion, due to the number of properties being offered. Once again, the auction attracted a very good number of people. It included those who had registered buying interest, those who had expressed conditional buying interest and those who came along to see what is selling and for what price, to give an idea of what is happening very currently in the real estate market.
The evening began with 4 Tainui Road, Cockle Bay selling 'under the hammer', for $1,980,000
The next to sell 'under the hammer' was 86 Bob Charles Drive in Golflands. This sold after 17 competitive bids, for $960,000
2/68 Prince Regent Drive, Half Moon Bay also sold 'under the hammer' for $790,000
6 Wood Avenue in Howick was brought forward from its original 11 November auction date due to a pre-auction offer which was accepted by our vendors, subject to the property being submitted to auction on the earlier date. It sold 'under the hammer' after the pre-auction start of $1,125,000 and, after some 17 further bids, sold for $1,200,000
51/ 1 Gracechurch Drive in Flat Bush also sold 'under the hammer' for $590,000
Buying activity continued immediately post auction and to date, further negotiation has resulted in sales for:
239A Bleakhouse Road, Mellons Bay
69 Nelson Street, Howick
1/41 Minaret Drive, Bucklands Beach
1/12A Reeves Road, Papatoetoe
57A Advene Road, Cockle Bay
134 Union Road, Howick
So, as stated at the beginning, three weeks of marketing has resulted in extremely positive results for both our vendors, as well as buyers who had the opportunity to secure quality properties.
Our vendor clients are certainly listing quality properties. This gives buyers quality buying options, as well as an opportunity to evaluate the these options with our ability to give prospective buyers direct access to a highly experienced, award winning team of mortgage advisors, who have access to a variety of lending institutions and their very favourable mortgage conditions.
As indicated in our recent reports, the results we are achieving demonstrate a confidence in the current real estate market, as well as a confidence in the quality real estate options which we enjoy in our Eastern Beaches area, particularly now, as we move through the remaining six effective transaction weeks for 2019.
I continue to emphasise that we consider we are achieving extremely good price results for our vendor clients within a much defined marketing period, acknowledging that our challenge always is to meet vendor price expectations with buyer price expectations. As with all sales, there needs to be a 'win/ win' on both sides – vendors need to be satisfied that the price achieved is the best the market for that item will allow and, buyers need to be satisfied that they have achieved 'buyer value'.
As a foot note, I keep an eye on Australian trends through reports published by Williams Media, which this week reported: 'This week, there were 41.5 per cent fewer homes taken to auction across the combined capital cities with activity significantly lower across Melbourne as the city is brought to a halt amidst the Spring Racing Carnival.
Real Estate Institute of Victoria CEO, Gil King said the high clearance rate was good to see.
"Despite the lower number of auction activities due to the upcoming Melbourne Cup, the weekly clearance rate continues to stay above 70 per cent for the past four months," said Mr King.
Sydney
There was little comment apart from – there were 832 auctions held across the city this week, increasing on last week's 771 and higher than one year ago (813).
Brisbane
Auctioneer Justin Nickerson of Apollo Auctions said South East Queensland continued its steady-as-she-goes manner of the past few weeks with another week of solid clearance.
"Although registered bidder numbers and the active bidding percentage was down, this was offset by a number of pre-auction and one bidder sales," said Mr Nickerson.
"Volume continues to be strong, remaining consistent now right through until the Christmas break."'
Ken Ralph
Auction Services Manager