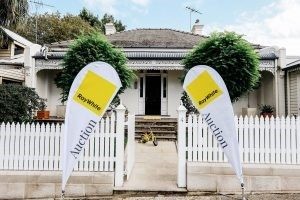 Our 24 August portfolio was reduced to two properties being offered for sale. This was due to the lockdown level 3 restrictions curtailing the number of inspections each day and no building inspections able to be carried out. Therefore, the balance of the portfolio has been transferred to 7 and 14 September. The two properties were able to continue to auction as they had sufficient marketing time prior to the lockdown. The properties being offered were found in Mission Heights and Flat Bush.
Under level 3 lockdown, we again had to swap the home of Ray White Auctions, the Bucklands Beach Yacht Club, for virtual auctions from our Howick Office training room.
Vendors, buyers and our sales team were able to participate in the auction via the internet where they were able to view the property being sold. Bids were received by 'phone communication to the auctioneer.
12 Michael Jones Drive in Flat Bush sold 'under the hammer', after some 19 competitive bids from three registered bidders, for $940,000
10 Briar Vale Place, Flat Bush also attracted bidding to the buyer feedback price level, however, not to a level which allowed the vendor to place 'on the market' to sell 'under the hammer'. We continue to work with the bidding buyer interest to negotiate a sale for our vendor
There are always various reasons why potential buyers cannot meet the terms of an Auction For Sale and Purchase Agreement, which is a totally unconditional agreement. Therefore, we try to work with these potential buyers to attract the best conditional sale for our client vendors, post auction.
As noted above, we look forward to rescheduling the remaining properties into September in order that buyers can fully investigate all conditions of the auction, unconditional and For Sale and Purchase Agreements, particularly at this time, as building inspections can now be carried out from 24 August due to a change of stance by the Ministry of Justice.
As a foot note, I keep an eye on Australian trends through reports published by Williams Media.
As with previous weeks, there was little auction activity comment from Sydney and Melbourne due to their continued various 'lockdown' requirements. However, the following comments were made.
'CoreLogic has reported that there were 1,082 capital city homes taken to auction this week, a slight increase on the 1,046 homes auctioned the week prior. The last few weeks have seen both the clearance rate and number of homes taken to auction relatively steady each week, with volumes remaining around the 1,100 level and final clearance rates around the mid- to-high 50 per cent range.
The performance across the two largest capital cities has been quite diverse as Melbourne continues to navigate through lockdown restrictions resulting in lower levels of activity and
higher withdrawal rates, while Sydney has seen volumes trending higher over the past few months and consistently higher year-on-year. In Melbourne, preliminary results show that only half of the homes taken to auction this week were successful, down on last week's preliminary figure of 63.6 per cent (final 53.7 per cent).'
Ken Ralph
Auction Services Manager